Internships are an important aspect of your undergraduate experience allowing you to apply the skills you have gained from your academic pursuits in practical work environments.  SOC 199: Career Development for Sociology is the starting point for internship preparation. 
Sociology 400 is the Sociology Department's internship course and is one of the options to meet the Capstone Requirement. If a student finds an opportunity to participate in an internship program on or off-campus, the student and the undergraduate academic advisor can develop a program of study and research related to the internship. The student can then receive academic credit for participating in the internship. Permission to enroll in this course will depend on the undergraduate academic advisor and the student formally agreeing on course requirements per the Guidelines for Internships. Students should apply for SOC 400 one they have secured an internship using the following application.  Applications should be submitted to the Undergraduate Academic Advisor via soc-advising@illinois.edu.  An Internship Learning Contract is required as well as concurrent registration in SOC 400: Internships.
Sociology majors find internship opportunities in a variety of ways:
Visit the College of LAS Life + Career Design Lab
Make an appointment at the Career Center for Career Coaching to begin your search process
Attend Workshops through the Career Center
Attend the annual campus career fairs held in September and April: ACES + LAS; GIES Business; and Grainger Engineering.  Our students have found opportunities at all three of these fairs 
Sign up and utilize Handshake https://grad.illinois.edu/careers/handshake
Connect and Network via your LinkedIn Account
Identify organizations or offices on campus you are interested in and approach them about internship opportunities
Identify organizations/companies in your local area to connect with for possibly internship experiences
Watch the weekly Sociology Department Advising newsletter for posted opportunities

Implement Effective Internship Search Strategies. Landing an internship offer requires planning, preparation, and persistence.  Be prepared to apply to many positions, know that even if you are a qualified candidate, you may not get the offer - prepare for rejection and develop your support network of who you lean on when you get discouraged and who will cheer you on and keep your confidence high.  Secrets of a Recruiter: Job Search Strategies to Get That Interview!
Learn more about local volunteer opportunities:
Current & Recent Student Internships:
Spiros Law Firm
Illinois State Representative Carol Ammons - Campaign, Criminal Justice Panel and CourtWatch Intern
McKinley Health Center 
University of Illinois Office of Admissions
Crossing Healthcare Crossing Recovery Center
Melrose Park Elementary
Gold Standard Baking Inc.
Cline Center for Advanced Social Research
BMO Harris Bank
FBI
The Black Sheep
Carle Foundation Hospital
Read what recent Sociology graduates have said about their internship experiences: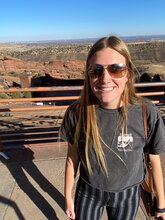 This past semester I have paired my position as an After School Leader for Champaign Urbana Special Recreation with my Sociology Capstone internship.  As a Senior preparing for graduation, I have focused on soaking up as much knowledge as possible in the short amount of time that I have left at UIUC.  This internship allowed me to independently explore sociological concepts and apply theories to what I have learned while working with children with disabilities through CUSR.  I am leaving this internship with a greater understanding of the inequalities present in public education systems, as well as the strategies that can be employed to provide equal education and developmental opportunities for all students.  I encourage other students at UIUC to find their passion and never stop learning, exploring, and bettering yourself in this area! Alexis Ivanic
As a senior with a major in Sociology I decided that completing an internship was something I could really benefit from. As an off campus student I began to branch out in an attempt to find the internship that would offer me the most opportunities. I ended up looking into Crossing Health Care, which is a federally qualified health center that provides care to a lot of marginalized and underserved communities. One of the populations that Crossing Health Care provides services for is those who suffer from opioid and alcohol substance abuse problems. These services are administered through Crossing Recovery Center. Interning through Crossing Recovery Center allowed me to get hands on experience with patients. This involved full observatory access to their cases and their treatment plans as well as helping in facilitating one on one sessions and groups. Along with the hands on experience I also had access to a number of books used to aid counselors in their treatment services of patients. I would urge any student that intends to take on an internship to not only jump at any hands on experience opportunities but to also indulge in any learning opportunity. The knowledge and skill set that I gained through my internship is not something that can be taught in a classroom environment. It also opened up the opportunity for me to secure my first entry level position.    Amberlyn Sumpter
My initial interest in Sociology was sparked by a brochure. I didn't know what I wanted to do or where my college career was taking me. Soon after arrival I knew I was in the right place. The variety of classes and opportunities to explore any interest was amazing. From history and literature to science and statistics, any interest can be found in the framework of study within UIUC sociology. Post graduate, I will be working as a Data Analyst for Allstate within their marketing department. I credit this opportunity to my background in research, demographics, and the study of society as a whole-- in all of my Sociology classes at UIUC. Professionally, I have held internships in a variety of fields and personally, I have a deeper understanding of myself and those around me. In a dark world, the professors and administrators within the sociology department, here at UIUC, are an absolute beacon of empathy and awareness.  Matthew Groebe