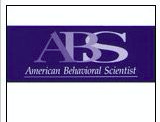 By Department Head Tim F. Liao, Roger Yat-Nork Chung, and Eric Fong.
This article discusses an innovative method of collecting survey data on a special population, migrant live-in domestic workers, for which it is difficult to define an appropriate sampling framework. These migrant workers, however, have regular gatherings in public spaces within a certain period of time during the weekends. The article includes the method of collecting data on this group of domestic workers and the procedures for implementing the method. The limitations, the difficulties encountered, as well as possible directions for improving the method in the future are also discussed. 
For the full text, go here.