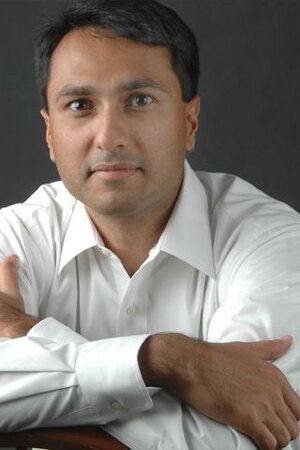 Every year our Sociology at Illinois alumni make us proud through all the work they are doing in their communities and the world. The Distinguished Alumni Awards are given to those whose work we want to highlight and specifically celebrate this year. In 2020, those alumni were Douglas Barnes, Eboo Patel, and Glenna Spitze. At our virtual award ceremony in December, the alumni were introduced by current and former undergraduate and graduate students, exemplifying our commitment to connection. Senior Erica Hamlink, who introduced Eboo Patel with senior Seetha Ramaswamy, reflected that this experience was a brand-new challenge to culminate their years of involvement with the Sociology Department as Ambassadors. Congratulations to Eboo Patel!
Eboo Patel is a distinguished alumnus from the University of Illinois at Urbana-Champaign, having received a bachelor's in Sociology in 1996. He then received his doctorate in the Sociology of Religion from Oxford University through the Rhodes scholarship. With his identity as a Muslim American and becoming interested in religious diversity in college, Dr. Patel has been inspired to work towards interfaith cooperation. In 2002, he founded the organization Interfaith Youth Core, which is based on the idea "that religion should be a bridge of cooperation rather than a barrier of division." Dr. Patel has been working with governments, non-profit organizations, college campuses, and other groups to promote dialogue and cooperation between different faiths and communities. One main focus of Interfaith Youth Core is helping find common ground while respecting differences. They launched the Interfaith Leadership Institute, which trains college students and staff in interfaith literacy and leadership skills. This brings together young people from different religious backgrounds to focus on service in the community and pressing issues on college campuses. These students from different backgrounds working together creates a space where it is easier for people with different beliefs to cooperate. The skills and mindset students gain by participating allows them to be well equipped to focus not just on interfaith work but also issues surrounding the political divide in the U.S. and racism. This summer they had over 500 people attend the Interfaith Leadership Institute. The Interfaith Youth Core also has online resources that may be helpful for faculty members as well, such as information on teaching interfaith studies online and a guide to hosting interfaith friendly events. Finally, they also launched the Interfaith Diversity Experiences and Attitudes Longitudinal Survey, which is the most expansive survey of its kind addressing engagement with religious and worldview diversity for U.S college students. In addition to founding Interfaith Youth Core, Dr. Patel has many other accomplishments. A few highlights are: in 2009, he was named by the U.S. News & World Report as one of America's Best Leaders; in 2011, he served on President Obama's Inaugural Faith Council; in 2010, he received the University of Illinois Outstanding Asian-American Alumni Award; he has authored 4 books; blogged for newspapers like The Washington Post and the Huffington Post; and he has spoken at a TED conference, the Clinton Global Initiative, and the Nobel Peace Prize Forum.
Thank you Eboo for your outstanding accomplishments!