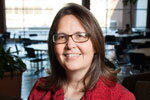 Contact Information
Sociology Department
3090 Lincoln Hall
702 S Wright Street
Urbana IL 61801
M/C 454
Champaign, IL 61820
Biography
Professor Anna-Maria Marshall, J.D., Ph.D. is an associate professor of Sociology at the University of Illinois, Urbana-Champaign, where she also has an appointment in the College of Law. She is the author of Confronting Sexual Harassment: Law and Politics in Everyday Life (2005) and co-editor of Queer Mobilizations: LGBT Activists Confront the Law (2009). She received her J.D. from the University of Virginia School of Law and her Ph.D in Political Science from Northwestern University. Her work has appeared in Law and Society Review, Law and Social Inquiry, Studies in Law, Politics, and Society, and several edited volumes. She is a co-PI in several NSF-funded projects supporting transdisciplinary research and education, including the INFEWS-ER (Innovations at the Nexus of Food-Energy-Water Systems – Educational Resources), EngageINFEWS (Research Coordination Network on Stakeholder Engagement in FEWS), and STEPS (Science and Technologies for Phosphorus Sustainability).
Research Interests
Sociology of Law
Environmental Sociology
Science, Knowledge, and Technology
Collective Behavior and Social Movements
Research Description
My research is grounded in Sociology of Law in the Law and Society tradition and is based on my longstanding interest in the relationship between law and social change. I began my career studying women's legal consciousness about sexual harassment in the workplace, and I have conducted studies of social movements' use of law and legal strategies in the areas of women's rights, same-sex marriage, and environmental justice. My current research focuses on the governance of environmental problems caused by agriculture. In that area, I am working on two major projects. In the first, I am studying state responses to the Hypoxia Task Force and the use of voluntary measures to control nutrient loss. I am also doing a study on the adoption and diffusion of innovative technologies promoting phosphorus sustainability.
Education
B.S. Politics, New York University
J.D. University of Virginia Law School
Ph.D. Political Science, Northwestern University
Grants
2021 -- present: Co-PI, STEPS (Science and Technologies for Phosphorus Sustainability), NSF Science and Technology Center
2017 -- present: Co-PI, EngageINFEWS RCN, NSF
2015 -- 2022: Co-PI, INFEWS-ER (Innovations at the Nexus of Food-Energy-Water Systems -- Educational Resources, NSF
Courses Taught
Criminology
Criminal Justice System
Law and Society
Additional Campus Affiliations
Associate Professor, Gender and Women's Studies
Associate Professor, College of Law
Associate Professor, Global Studies Programs and Courses

Highlighted Publications
Andrew Klisky, Paula Williams, David L. Griffith, Virginia H. Dale, Chelsea Schelly, Anna-Maria Marshall, Valoree S. Gagnon, Weston M. Eaton, Kristin Floress. "Thinking Big and Thinking Small: A Conceptual Framework for Best Practices in Community and Stakeholder Engagement in Food, Energy, And Water Systems." Sustainability 13:2160-79 (2021).
Luis F. Rodriguez, Anna-Maria Marshall, Dan Cotton, Richard Koelsch, Jacek Koziel, Deanne Meyer, Dan Steward, Jill Heemstra, Anand Padmanabahn, John Classen, Nathan J. Meyer, Benjamin L. Ruddell, Sean M. Ryan, Ximing Cai, Emad Habib, Peter Saundry. "The Development of the INFEWS-ER: A Virtual Resource Center for Transdisciplinary Graduate Student Training at the Nexus of Food, Energy, and Water." (with Luis F. Rodriguez, et al.)  Frontiers in Environmental Science 7:38 (2019).
"A Trial in the Life of the Environmental Justice Movement: USA v. Citgo."  Studies in Law, Politics and Society 49: 97-121 (2009).
"Idle Rights: Employees' Rights Consciousness and the Construction of Sexual Harassment Policies." Law and Society Review 39 (1): 83-123 (2005).
 "Cause Lawyering." Annual Review of Law and Social Science 10: 301-320 (2014) (with Dan Crocker Hale).

Confronting Sexual Harassment: The Law and Politics of Everyday Life.

  Burlington, VT: Dartmouth Ashgate Publishing. Law, Justice, and Power series, Austin Sarat, editor. (2005).
Recent Publications
Natalie Nelson, Maude Cuchiara, Christine Ogilvie Hendren, Jacob Jones, Anna-Maria Marshall. "Hazardous Spills at Retired Fertilizer Manufacturing Plants Will Continue to Occur in the Absence of Scientific Innovation and Regulatory Enforcement." Environmental Science and Technology, in press (2021)
Anna-Maria Marshall, Luis F. Rodriguez, J. Heemstra, J.J. Classen, E. Cortus, J. Koziel, D. Meyer, A. Padmanabhan, S. P. Reed, R. Walters. "Developing Cohort Challenges: An Innovative Program for Training Graduate Students to Work in Transdisciplinary Teams." Proceedings of American Society of Engineering Education (2022).
M. Stablein, J. Gonzalez-Cruz, J. Talbot, M. Fernandez-Frey, M. Ramirez. B. Rosado Casanova, J. Heemstra, E. Fidan, S. Reed, R. Walters, Anna-Maria Marshall, L. Rodriguez, Compound[ing] Disasters in Puerto Rico: Pathways for Virtual Transdisciplinary Collaboration to Enhance Community Resilience. Global Environmental Change (in press).