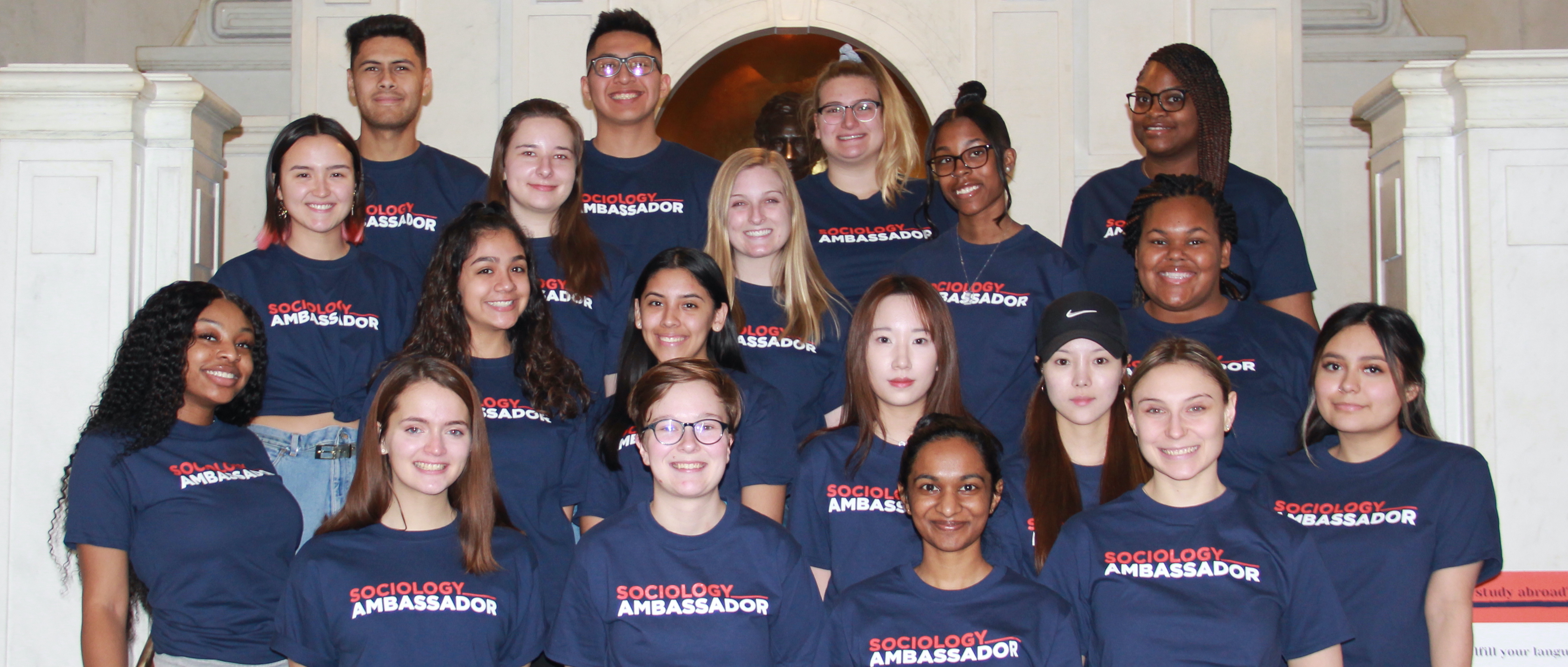 Our Student Ambassadors in Lincoln Hall
Undergraduate students who want to become Sociology Ambassadors take a class called Leadership and Engagement Thru Sociology in order to enter into the Ambassador progam. The course is designed to explore Sociology as a discipline and, specifically, the skills gained from the major applicable to practical work pursuits in a variety of career fields and graduate studies. Students will engage in a mutually beneficial experience – clarifying the contemporary value of studying Sociology and its marketability as a major and learning how to articulate that value to prospective Sociology students. Students will learn how to articulate their "story" of their collective Illini experience to employers/graduate schools.
Our Student Ambassadors develop leadership skills including communication, leading groups, teamwork, and organization. Students gain individual skills through experiences serving as Ambassadors for the Sociology Department. These may include, but are not limited to, meeting and communicating with prospective students, serving as representatives of the Sociology Department at campus events, performing outreach to admitted incoming freshmen and transfer students, visiting classes to promote the major and the minors, and participating in assessment of departmental advising programs. Students also develop a strong resume for this experience.
Still not convinced? Here are some quotes from blog posts written by our Spring 2020 Ambassadors about what their time in the course has meant to them:
By Norma Grabauskaite (Freshman): "This program was most definitely out of my comfort zone, but I don't regret my decision one bit. My main motivation to join was the fact that there are so many skills to be gained from this program. From presentations, to career projects, to resume building, the program sounded wonderful. What sold me was the opportunity to gain leadership experience in a way that I had not been able to before, and I could get credit while doing it! ...Overall, I felt this program was an opportunity I would not be offered anywhere else, and I'm really glad I joined!" 
From Kristen Mai (Junior): "Without a doubt, I learned a lot from this class. In my opinion, this class not only improves our personal skills like communication skills, but also helps us outline our future career plans...n addition, I think the program also helps us improve our independent thinking ability...The Ambassadors program not only helps me grow personally, but also helps me build a plan for my future career." 
By Kayla Salgado (Freshman): "The Ambassadors program has provided me a place where I feel supported in exploring possible career paths because of the resources we're given...Being a part of this program is one of the best decisions I've made, I now feel like I have the support of several people who are in the same position. I now have a clearer vision of what I want to do throughout my time at UIUC, and I hope to stay part of this program so I can help those who come after me."